RENTAL
Rental package offered completely equipped with the need transportation, installation, operation, well trained staff, all pump sets attachments and others.

Offers some attractive rental program package and suitable to be considered by customer who pay attention to company cash flow and efficiency, flexibility, practical, and economical.
Our Products for Rental Packages :
Multiflo CF Series.
Multiflo MF Series.
Sykes HH Series.
Pipe HDPE 8 – 12 inch.
Pontoon Capacity 6 – 10 Ton.
Standard Monthly Rental Package:
Daily fuel tank.
Standard and 6 meter suction hoses.
Installation and operations.
Comprehensive maintenance.
Operator.
Optional Attachment:
Stainless Steel Unit.
Valve (Standard & Reducing).
Pontoon.
Pipeline (HDPE).
PRODUCT SPECIFICATION:
Type
Max Head
Max Flow
Multflo MF290
85 meter
90 lt/sec
Multiflo MF360
127 meter
110 lt/sec
Multiflo CF48 / MF380
110 meter
160 Lt/Sec
Multiflo MF385
135 meter
175 lt/sec
Multiflo MF385HP
150 meter
175 lt/sec
Sykes HH150
98 meter
110 lt/sec
Sykes HH200
130 meter
150 lt/sec
Pontoon

- Capacity 6 Ton
- Capacity 10 Ton

Pipeline (HDPE)

- 6 inch diameter
- 8 inch diameter
- 10 inch diameter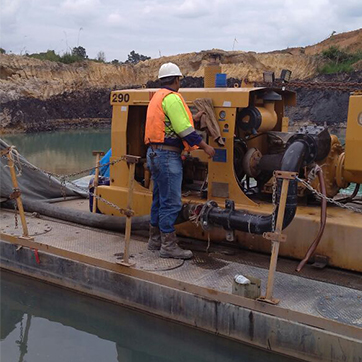 OPERATION AND MAINTENANCE
Our business unit has been providing dewatering solutions since 2013, and extended into pump service, maintenance and restoration solutions. We provide this packages handle by team station at Balikpapan, Kalimantan Timur.
Choose from our OM packages according to your needs :

1. Service and maintenance Pump packages, we serve the customer on "contract" and "on call" services. This packages assure that your pumps assets are well-operated and properly managed.

2. Pump Restoration solutions, this is for old pump that are already having deteriorated performance. It can help your pump last longer life cycle, as you don't replace pumps but restored to its original function. The cost of restoration are significantly lower than the cost of a new pump.


Maintain your Pump Efficiency & Make it Last Long